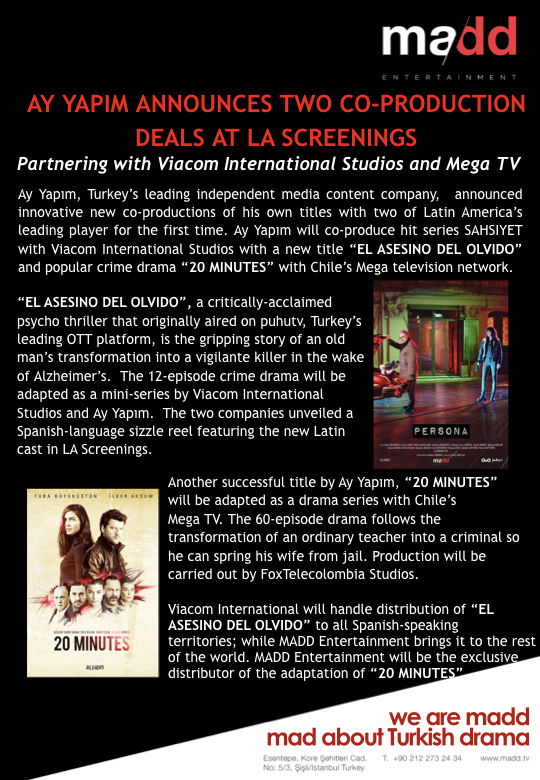 LOS ANGELES, May 17 , 2019 — Ay Yapım, Turkey's leading independent media content company, announced innovative new co-productions of his own titles with two of Latin America's leading player for the first time. Ay Yapım will co-produce hit series SAHSIYET with Viacom International Studios with a new title "EL ASESINO DEL OLVIDO" and popular crime drama "20 MINUTES" with Chile's Mega television network.
"EL ASESINO DEL OLVIDO", a critically-acclaimed psycho thriller that originally aired on puhutv, Turkey's leading OTT platform, is the gripping story of an old man's transformation into a vigilante killer in the wake of Alzheimer's. The 12-episode crime drama will be adapted as a mini-series by Viacom International Studios and Ay Yapım. The two companies unveiled a Spanish-language sizzle reel featuring the new Latin cast in LA Screenings.
Another successful title by Ay Yapım, "20 MINUTES" will be adapted as a drama series with Chile's Mega TV. The 60-episode drama follows the transformation of an ordinary teacher into a criminal so he can spring his wife from jail. Production will be carried out by Fox Telecolombia Studios.
"We have distributed more than 2,000 hours of content in Latin America so far. In this period we had great partners and built sustainable business with them. Viacom and Mega have always been among the best. Today together with them we go to another phase. I believe we selected the right content to adapt and I am sure the market will show great attention." according to Kerem Çatay, CEO of Ay Yapım.
"Ay Yapım is one of the best content producers of Turkey and this new amazing series is the beginning of a very strong partnership. At Viacom International Studios we look for trustworthy partners to develop more high quality content for every genres and formats." said Dario Turovelzky, SVP of Global Contents Viacom International Media Networks Americas & VIS.
"We are proud to be a part of this alliance. For us it is an honor that Ay Yapım, a producer that we admire, and follow as a reference in the audiovisual market, trusts the quality standards of Mega's stories and productions. We are sure that together we can produce great stories." Said, Juan Ignacio Vicente, Director of Content and International Business, Mega TV.
Viacom International will handle distribution of EL ASESINO DEL OLVIDO to all Spanish-speaking territories; while Ay Yapım brings it to the rest of the world through its affiliated distributor, MADD Entertainment. MADD Entertainment will be the exclusive distributor of the adaptation of 20 MINUTES.
"MADD Entertainment is only a 9-month old company. We are happy to have already completed these two co-production deals for the first time in the market, Our goal is to establish real partnerships with our clients." Ateş Ince, Managing Director of Madd Entertainment said.
####
About Viacom International Studios Americas
Viacom International Studios (VIS) Americas is the development, production and distribution unit of Viacom International Media Networks Americas. VIS offers a complete portfolio of content that covers all genres, through its global brands Nickelodeon, MTV, Comedy Central, Telefe and Porta Dos Fundos, reinforced with the original production power distributed among 14 studios at the regional level. VIS's global sales include original productions, co-productions, format sales for local adaptations and sales of canned products. VIS's content covers all genres, from soap operas to dramas, short and long comedy formats, and cinematographic productions. Under the new content distribution model, VIS has recently closed several agreements with key customers of MVPDS, SVOD and Open TV worldwide.